About Us
Pacific Yacht Management provides complete marine services to yachts, owners, and crew. Every aspect of yacht maintenance and ship's agent services are covered for both power and sail, from the largest mega yacht to the smallest sport boat. We offer one-stop yacht care.
Trust your boat to us. We know what it takes to maintain and operate a boat. Pacific Yacht Management understands both the owner's and the operator's perspective of yacht care. As professional captains, engineers, deckhands, and stewardesses we're on the pulse of the Pacific Northwest's marine industry. We strive to meet schedules and provide timely service and care instructions to owners and captains with guaranteed reliability. Our centrally located office makes it that much easier for us to get the job done, regardless of where your vessel is.
Our contacts with world leading marine suppliers and vendors include some of the most skilled personnel in the marine industry. Our links with yacht builders, designers, and top specialists in marine service give us a unique ability to trouble shoot and service any problem, no matter how complex or minor, and preserve or increase the value of a yacht through proper mantainence services.
Whether you are an owner of a large yacht who wishes to operate without a full-time crew, or one who needs to be taken step by step through a builder's manintenance & operation procedures, give Pacific Yacht Management a call and leave the worries of maintenance to us.
---
Pacific Yacht Management is a founding member of Superyacht Northwest, a complete resource of superyacht services and support for yachts cruising to the pristine destinations of British Columbia and Alaska.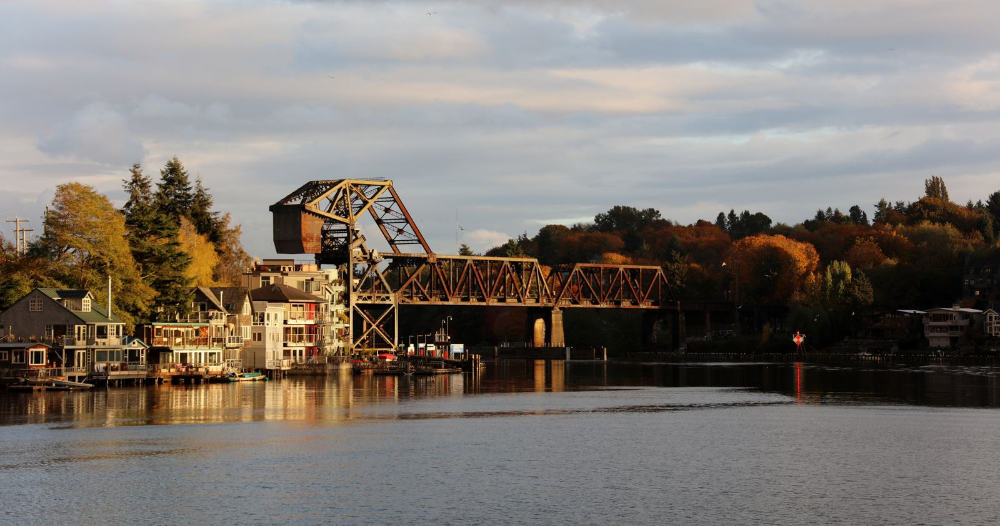 Entering Ballard Locks. Photo from: Pendanablog.com
Our Team at Work
We offer an experienced team of professional technicians ready to help you with all your yachting needs.
Why come visit us in the Pacific Northwest?
With the world's largest ocean, North America's highest peak, and the Puget Sound, the Pacific Northwest boasts an abundance of islands and inlets with seascapes of dramatic white-shouldered mountains. These waters allow for remarkable cruising and plenty of hidden anchorages in the San Juan Islands, Vancouver Island or even further north into Desolation Sound and Alaska.
Expect to see Orca or Humpback whales in these waters, go salmon fishing or drop a Dungeness crab pot if you get your timing right!
This doesn't include the Olympic rain forest and dense woodlands right out of the city with snow sport excursions, hiking, mountain biking, and the list goes on with what is available on our doorstep. All outdoor activities can be arranged with minimal fuss and expert assistance. That's our business!
Pacific Yacht Management has been based out of the Pacific Northwest for over 20 years, meaning we know the lay of the land and water when it comes to securing what you need. Provisions and parts, itinerary planning, fuel and moorage, hotels, rental cars, limousines or car services, and charter flights are all things we can be trusted to organize for you. Or maybe you just need plain old directions on how to get to the Pike Place Market! One way or another, part of our job is to make your stay here enjoyable.
Seattle is a major metropolitan city with just about everything you can imagine, found within 30 minutes of our office.
We are lucky enough to be in an area which lays claim to:
Fresh farmers markets
Craft breweries
World class multi-cultural dining experiences
Freshest seafood
A thriving theater community
Upscale shopping centers
Major hotels
Museums and art galleries
Elliot Bay Marina
View of the Olympic mountain range right from your boat at Elliott Bay Marina.
Pike Place Market
The freshest produce and seafood at Pike Place markets in the heart of the Seattle city center.
Crystal Moutain
Backcountry Skiing at Crystal Mountain Resort. Under 2hrs out of Seattle center.